Information
abime.net is copyright 2001-2018 by Astruc Pierre, also known as RCK.
Readers may not modify, publish, transmit or in any way exploit any of the contents of this site, in whole or in part, without the express prior permission of the copyright holder. Direct comments to the appropriate person. All rights reserved.
SMBFS released
SMBFS:
SMBFS A SMB file system wrapper for AmigaOS, using the AmiTCP V3 API
SMBFS implements an SMB file system for AmigaOS. This file system can be used to access files made available
by file servers which implement the SMB protocol, such as 'Microsoft Windows' or any other platform which supports
the free 'Samba' product. These files can be accessed using shell commands such as 'List', the Workbench or utilities
such as 'Directory Opus' as if the file server were a local disk drive.
This build is a simple compilation from Source Code found on
https://github.com/obarthel/amiga-smbfs/releases
No ChangeLog was provided after version 1.106
This build is a simple compilation from Source Code found on
https://github.com/obarthel/amiga-smbfs/releases
No ChangeLog was provided after version 1.106
SMBFS 1.117:
Download
6 comments
HstWB Installer for Classic Amiga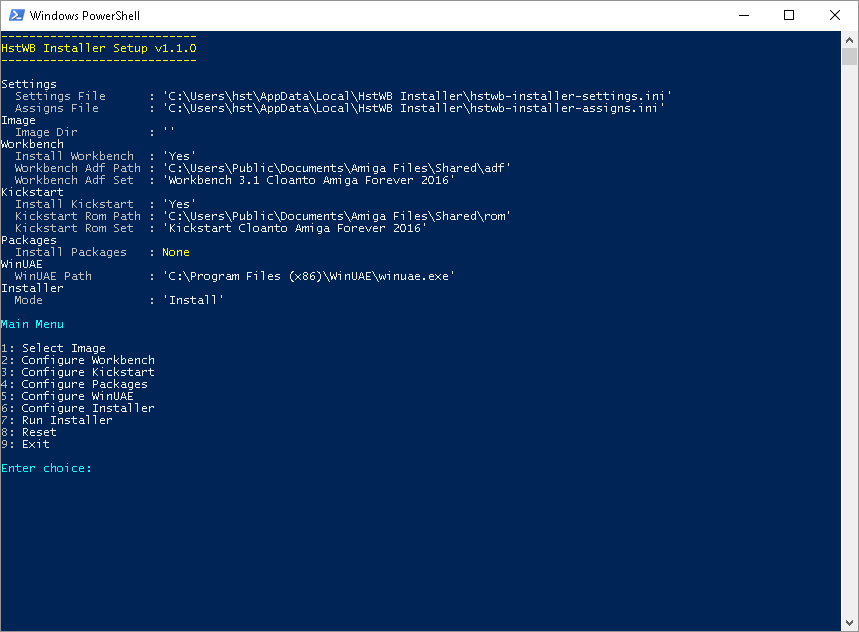 HstWB
Installer is a set of powershell scripts, image templates, configuration files, AmigaDOS scripts and binaries used to easily build Amiga HDF or directory images with automated installation of Workbench, Kickstarts roms and packages with additional content for Classic Amiga. It's currently being developed and maintained by Henrik Nørfjand Stengaard.
Setting up a blank Amiga HDF image with e.g. PFS3, Workbench, Kickstarts roms, WHDLoad games and demos installed properly can be a cumbersome task unless you spend a lot of time figuring out how this is done step by step.
This is where HstWB Installer come to aid and can help to automate such installations using WinUAE and should be possible for almost anyone to do with very little knowledge about Amiga.
The packages included are BetterWB, HstWB, EAB WHDLoad games and demos menus for both AGA and OCS. Menu packages has screenshots and details for EAB games and demos WHDLoad packs configured for Arcade Game Selector 2 and iGame. These packages can be added to an image configuration and will be installed during HstWB Installer installation process.
In general HstWB Installer is build as a minimalistic as possible using BetterWB and HstWB to support A500 as a minimum. HstWB is mainly targeted A500, A600, A1200. The minimalistic approach allows users to customize it further with their own preferences like installing eg. MagicWB or Scalos.
Since Amiga Workbench and Kickstart roms are licensed property these files can't be included as they need to be acquired legally by buying Cloanto Amiga Forever or using grabkick from aminet to dump roms from real Amiga's.
HstWB is short for my name and Workbench (very original, I know).
HstWB v1.2.0 Beta3
:
Download
4 comments
IndieGoGo: New Compatible Amiga 500 Cases





Dear Amigans,
The A1200 Team and myself are happy to share with you our third Crowdfunding campaign.
►New Amiga 500(+) Compatible cases ◄
Campaign Link:
https://tiny.cc/a500case

Please note:
The campaign is now in USD.
Previous campaign for the keycaps was in SGD.
This wasn't easy for some backers to notice right away.
One of the many advantages moving to Indiegogo was the option to chose the USD currency, alongside a bunch of other features they offer. Things that are not possible on Kickstarter.
Campaign informations:
The purpose of this new campaign is to create new molds for Amiga 500 computer cases.
With the Team we've decided to go for the A500+ case design with its larger badge.
Since we'll provide nice Metal badges
.

The molds will carry out the case shells, but also expansion doors, and Apollo Vampire ports adapter, Vampire V4 cradle and if everything goes as planned with the last stretch goal;
Replacement shells for Tank Mouse
will be available too.
As the bulk of the stress for the keycaps is now over.
We know we have the design and materials down. And are now waiting for our production slot and then go into labeling.
And this is 100% outsourced to our manufacturing partners.
Thus we now have the bandwidth to invest time in the next project and work on the design (which started already a few months ago with we had the Keycap Design set it stone)
Here a couple campaign details and case features:
The campaign will last 45 days.
- It can be expended to 60 days if necessary.
You can pledge on multiple rewards
- Just send a message after your first pledge and we'll get back to you.
New run of Keycaps is planned
- This will happen after all keycaps backers have received their rewards.
Case is a Replica of Original A500 case
Full support for Vampire accelerators
New trapdoor on the rear
Vented bottom trapdoor
Metal brass inserts & screws
Case Metal Badge
Rubber Foot
New Original A500 Color.
New RED and GREEN Colors
New Tank Mouse Shells (Stretch Goal)
Thank you again for your support and for helping us to continue and renew necessary parts of the Amiga classics.

Cheers,
Phil
Team A1200NET
Special Editions
22 comments
Introducing the Mini Miga
The Mini Miga is an Amiga 1200 inspired by the NES and SNES Minis.
It features:
A fully working keyboard
A tiny mouse
Mini floppy disks (non-functional)
Special ultra-micro USB ports
Free copies of Microcosm and Fantastic Voyage
Cat not included
The Kickstarter will launch in the next few weeks.
2 comments
New amiga 500 cases
Posted by
Prosonic
- 31 March 2018
19:54
The guys at a1200.net have launched the new a500 case crowd funded project

https://www.indiegogo.com/projects/new-compatible-case-for-amiga-500-plus#/
22 comments
LoadModule Released
LoadModule
installs so called "resident modules" in a reset-proof way, possibly replacing ROM modules by disk-based modules, similar to what SetPatch and its "ROM-Updates" mechanism does. "Resident modules" are loadable binaries containing a special structure telling the Os how to initialize them and what to perform on initialization - Amiga libraries and devices are the canonical example of these modules, the "ram-handler" is another. "LoadModule" can be used to install these resident modules in a reset proof way such that they are available immediately at system bootstrap time. This is desired whenever a module is required for booting, as for example some of modules in the Amiga-Os ROM-Updates. "LoadModule" can therefore be used as a more canonical form of the ROM-Updates since it does not require an undocumented file format - modules have to be provided as loadable disk based binaries in their most canonical form, and can be kept in their canonical location. For example, the V45 "console.device" could be kept in DEVS: similar to all other devices. "LoadModule" can be used as well to replace the ROM-based icon and workbench.libraries by their disk-based 3.5 and 3.9 replacments, or to make modules reset-proof that are typically disk-based, for example the diskfont.library or the mmu.library.
New in V45:
Can also load the 3.9 exec.library, and can upgrade the ROM fully automatically from disk. See below for details.
For a quick start, just run "ExtractModule" without any arguments on an Os 3.9 system. This will place all modules of the ROM Updates in the right places, and LoadModule AUTOwill pick them up correctly.
LoadModule v45.14.1:
Download
1 comments
Amiga Game Music HQ Studio Remaster.
Posted by
ma693541
- 29 March 2018
13:20
Grab this free album of Amiga Game Music HQ Studio Remaster by Naviára at her Bandcamp page;
Naviára
Please consider to donate her some money even if this album is totally free.
Track List:
Turrican II - Title Music.
R-Type - Theme From R-Type.
Captive - Title Music.
Leander - Title Music.
Legend of Faerghail - Title Music.
Shadow of the beast - Ingame Music.
Castle Master - Title Music.
and more.
2 comments
Road Avenger for Amiga Released!
Posted by
earok
- 28 March 2018
03:03
(
NOTE TO MODERATOR:
An existing post for this project exists in the CD32 board, but dates back to the time that this was still in the planning phases - http://eab.abime.net/showthread.php?p=1230496. Please lock that one and link to this post if appropriate, thanks!
)
ROAD AVENGER FOR AMIGA

A rip-roaring game of vengeance and vehicular mayhem, ReImagine's 3rd fan project is now available for download!
Features
All nine levels ported from the LaserDisc classic.
Enhanced version of the FMV engine used to power ReImagine's port of "TimeGal".
Six difficulty settings.
Start from any level, or choose to watch all scenes.
Options for 1 Button Joysticks, 2 Button Pads as well as CD32 Controllers.
Half an hour of anime footage.
The iconic Sega CD opening song by JWALK, as well as the arcade original.
Stunning HAM graphics on all versions, including for OCS.
Enhanced graphics in the AGA edition.
Download today from
http://pixelglass.org
68 comments
AWeb APL Lite Released
AWeb APL Lite:
New version of the famous Amiga Browser, these are the news:
Adds support for AmiSSL 4, and is compiled with gcc 5.4
And AWebJS has support for sending ARexx commands to a host, so you can use it as a standalone ARexx replacement. See the tests in the src directory for example code.
AWeb is a fast standards complient (by that I mean it complies to the standards it supports, not that it supports all standards...) HTML4.01 browser for AmigaOS. It has a powerful AREXX based scripting engine, and in local mode can execute commands from with html pages. This makes it very suitable for a documentation viewer, or GUI for a scripts etc.
AWeb APL Lite 3.5.12:
Download
LICENCE
This software is released under the AWeb Public Licence, please read the file apl.txt included in this archive for more information.
INSTALLATION
AWeb 3.5 may be installed by using the Installer script provided. It is recommended that you back up any previous installations of AWeb or install in a separate directory, but actually there should not be any real problems.
12 comments
New server for abime.net ready !
Posted by
RCK
- 20 March 2018
16:29
Dear community,
I'm happy to annouce that the new abime.net server is now ready for migration
http://old.abime.net/?go=about
Migration of all our websites will be done in the next 30 days, so don't worry if you see downtimes.
I will update this post when move of sites will be complete :
agf =
aha =
amilore =
amr =
classicwb =
download =
dream17 = Moved
eab =
guide =
hol =
irc = Moved
jambo =
kaillera =
mods = Moved
old =
pt1210 =
stats =
wiki =
winuae =
To celebrate this new server, I have updated my Mods Jukebox website and it's already moved !
The jukebox will now play mods with Javascript in all modern browser (Firefox, Chrome, Edge) and mobile one (iOS + Android).
So you will be able to listen to amiga music when EAB will be down
ps: You can always download mods by clicking on their filenames.
48 comments